Palm Inc, will make an announcement of a new mobile device tomorrow via a web cast. What makes this different than, Blah, Blah, Blah...is that Jeff Hawkins is making the announcement via webcast. For those who don't know Hawkins, he founded the device category and the company when he created the first Pilot in the mid 1990s. He also founded Handspring (oh, I loved my Visor Prism), a company which helped move the concept of mobile computing forward towards the Treo type devices we see today. Hawkins is an intellectual and a creative dude so this should be interesting. Here is what the press release reads:
Jeff Hawkins, founder of Palm, Inc. (Nasdaq:PALM), will host a live video webcast on Wed., May 30, to describe a new category of mobile device. The webcast will follow the announcement of this new product at the D: All Things Digital conference in Carlsbad, Calif.
A new category of mobile device? I'm skeptical of this, but we'll see. The full press release can be found here. Anyone excited?
History of these devices that I have owned over the last 11 years (Palm Pilot 1000, Palm Professional, Handspring Visor Prism, Dell Axim X5 - Pocket PC, Palm Zire...waiting for a convergence device worthy of time/attention)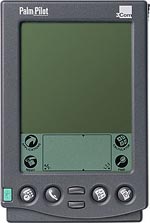 Update:
Apparently, if you are a Geek, tomorrow is a big day all around. The following schedule
from Engadget
is indeed interesting
Wednesday, May 30
8:00AM - 10:30AM PST window
Steve Ballmer / Microsoft
Jeff Hawkins / Palm

11:15AM - 1:00PM PST window
Steve Jobs / Apple

7:15PM PST
Bill Gates & Steve Jobs 2getha 4eva

Thursday, May 31
11:00AM - 12:45PM PST window
Eric Schmidt / Google